Fight Clean. Not Dirty: Printable Journal & Worksheets for Managing Relationship Conflict
£12.00 GBP
Tired of having heated arguments with your significant other? You know, the kind of arguments that start with dirty dishes in the sink, then escalate into a full-blown fight about E.V.E.R.Y.T.H.I.N.G.
Okay, so maybe your arguments aren't this dramatic.
Still, you recognise there are areas where communication could be better in your relationship.
"Fight Clean. Not Dirty" is a 65-page PDF journaling tool for helping you and your partner navigate relationship conflict in a healthy way. Based on research in the fields of conflict resolution and communication, you'll find 50 guided prompts, and exercises/worksheets to help you:
Explore how you handle disagreements.
Reflect on problems and challenges as a couple.
Express your needs in an open, and honest way.
Feel heard, understood, and valued.
Who is this printable journal for?
Married couples, new couples, and long-established couples who want to improve their ability to manage conflict in their relationship, communication skills, and overall relationship satisfaction.
What's inside?
Cover sheet
Instructions
50 journal prompts in two formats (list of prompts + journal layout)
Exercises: Conflict Iceberg + 'Change the Ending'
Worksheet: Emotions & Needs
Blank note paper
Lined note paper x2
Available formats:
The pages come in three file sizes: US letter, A4, and A5.
Note: You'll need an active email address, desktop computer or tablet, and a PDF reader installed such as Adobe Acrobat Reader (or any other reader) to access this product.
This product is a PDF you can download immediately. No physical product will be sent. Print the PDF from home or take it to your local print shop. The ring binder and other accessories in the images are not included.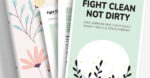 Fight Clean. Not Dirty: Printable Journal & Worksheets for Managing Relationship Conflict
Your review
* Review is required
Email
* Email is required
Add photos or video to your review
Q & A
There are no questions yet
You might also like these…